I can't sleep. I am in the middle of my fiance's sleeping family. I think I left Honey's duplicate of my keys earlier; which meant that the maid used it to get to OUR (yes, you read it right. O-U-R. Honey's mom asked me to have her stay with me when she arrived...) bedroom and she forgot (for someone as young as 23 years old, how could she easily forget things?!?) to leave it to its proper place.
Darn it! I can't sleep! Mosquitoes are sucking the blood left in me (I bled thrice this month and haven't been to the doctor yet... Hehehe...). I've moved to different places already and they still follow me...
Honey woke up to find me curling on a corner, working with his phone... (I decided to blog my miserable condition now, instead of looking at the clock and do nothing...) He told me to sleep but I said I can't because of the insect bites... He then made me sleep on his place. Honey moved a bit for my tiny body to fit between him and his niece. Still, I can't wander off to sleep land... ='''(
Rant, rant, rant... blog, blog, blog...
Summer is freakin' hot and makes it a whole lot difficult for me to sleep... Okay. I have a linen in handy... Might as well use it as cover or "protection" against mosquitoes... Fail! Huhuhu... The heat is gonna kill me! Besides, i haven't changed my clothes yet; I'm still wearing my jeans and shirt! Another fail! Maybe the maid brought my clothes to my room already because I can't find any of my clothes here... Huhuhu...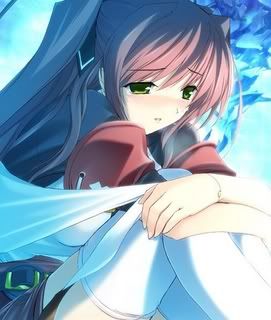 I wanna sleep... I wanna sleep...!!!
Hmmm... I could keep blogging while waiting for his grandpa to return. His grandfather is a "baranggay tanod", he went on duty tonight. He'll return around 3 am, so I could go in the house and be able to sleep beside my dear baby Woody. I rent at Honey's grandfather's house, which is only a door away from his house. I've been here for nearly three years.
Going back... I envy these people... They might be dreaming about nice stuff already... While I... I'm just sitting here, listening to the fan's and the condenser's sounds... Guarding their snores and hearing Aki's tiny bell make noises... Patience, I tell myself. I will only have to wait for about 25-30 minutes...
I'll try to lie down and give my aching lower back a rest... Oh man! Honey's niece moves a lot! Huhuhu... Body pain to the max! Ouch! An insect bit me... Then there goes my Honey with his big arm... I'm dead. x__x
Oh! I'm still alive! I can still feel pain... My arms and fingertips hurt already... I've been using Honey's phone to type my entry. I think I better rest. I'll continue later... Gosh... It's 3:07 already!
I fell asleep and woke up to the cries of Honey's mom. She had cramps on her right leg. It was 4am. Waiting for Tito Oca (Honey's grandfather) was another big fail. And so, the nasty insects kept on sucking my blood... Huhuhu...
I tried to get more sleep and I did. Well, at least for two hours. Honey's mom cried again because of cramps on her left leg! She was crying in pain and was asking for Honey's help. Honey gave his dad the instructions on how to handle it right. I could barely sleep and by now, the maid should have gone down with my Baby Woody. A few minutes later, she came and placed Woody in his cage. I asked for the keys and she took it from the bag of Honey's mom. God! I could have asked his mom for the keys but it looks like she was very tired; so it was good that I didn't bother to ask. Anyway, l'll be off to my bed and get some power nap... I have to fix my things and myself early today since its gonna be a busy day for candidates as well as Quiapo devotees. It's first Friday and its 06:33 am...
See you later! Mwuah! ^¤^